INTERNATIONAL LEADERSHIP SKILLS TRAINING WORKSHOP FOR INDIAN SCHOOL LIBRARIANS- 4-7th October, 2017
9 May 2018
By Madhu Bhargava, Dean of Libraries, G. D. Goenka World School
INTERNATIONAL LEADERSHIP SKILLS TRAINING WORKSHOP FOR INDIAN SCHOOL LIBRARIANS- 4-7th October, 2017
By Madhu Bhargava, Dean of Libraries, G. D. Goenka World School
The Indian School Library Association (to be registered) conducted a 3-day International Leadership Skills Training Workshop for Indian School Librarians at the G D Goenka University, Gurgaon, Delhi. The Workshop organised in collaboration with the International Federation of Library Associations and Institutions (IFLA), Netherlands and G. D. Goenka University (NCR, Gurgaon, Delhi) was supported by the International Association of School Librarianship (IASL, USA) and the National Library of Singapore.
Prof (Dr) Srihari, Vice Chancellor, G. D. Goenka University opened the programme and delivered the welcoming address to guests. This was followed by Ms Madhu Bhargava, Dean of Libraries, G. D. Goenka World School who presented the programme outline.
Among those who addressed the inaugural session was Ms Ingrid Bon, Manager, Development Programmes, IFLA and the chief guest who presented her thoughts on the importance of libraries. Dr Ramesh C. Gaur, Librarian, Jawaharlal Nehru University delivered the key-note address followed by Dr Moorttimatee Samantray Rath, Head, LDD, NCERT, Sanjay K. Bihani, Library & Information Officer, Ministry of External Affairs and IFLA Chair for Regional Standing Committee for Asia and Oceania, and Ms Amarjeet Gill, National Library Board, Singapore. Distinguished guests included Ms Tay Ai Cheng, Deputy Chief Executive, National Library Board, Singapore and several heads of schools, Deans of G. D. Goenka University, Dr Suku Bhaskaran, Director, Dr Narendar Sharma, Assistant Registrar of G. D. Goenka World Institute. Honourable guests presented their motivating thoughts on leadership and the importance of school library profession.
A pre-training study "School Libraries in India: A statistical Review" was released at the inaugural session by the chief guest, Ms Ingrid Bon. The workshop were conceived as a Capacity Building Leadership Training Programme for School Librarians of India. School libraries and School Librarianship as a profession in India has not emerged as a major profession despite having 1.5 million schools in India (according to a government report). The slow progress in professional development has led to this collaboration with IFLA to build Capacity for School Librarians of India.
Day 1 started with a self-introduction by the trainers Ms Ingrid Bon and Pramila Gamage and an ice-breaking session of the participants. Participants were divided into five groups for the activities.
The Sessions started with team teaching technique to build the interest among the participants. The module on library /professional associations in society and the role of professional associations and how it differs from unions was discussed. Participants were encouraged to participate in group activities which helped to analyse the role of a Library association in any country.
In the afternoon session, components of Library association and how to form effective committees were discussed. Key leadership positions within a LA and its importance was highlighted. Associated interactive sessions followed later on.
These were an eye opening sessions with clarity of objectives for establishing an association and its governing body. Each participant gave feedback on the sessions in one word and ended in collating twenty apt adjectives.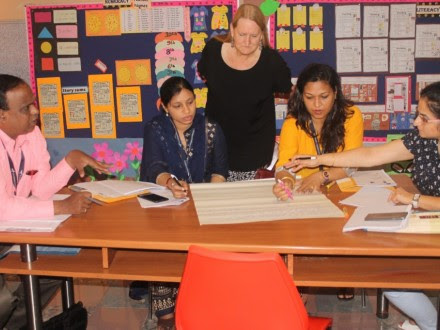 Day 2 of the 'Building Strong Library Association' was extremely engaging day and a simulation day. After the review of the previous day, a shadow association was created by the participants under the guidance of trainers and throughout the day the team researched various successful library associations of the world and produced first draft on:
Vision and mission statements of the, to be born association.
Together they worked in groups on creating objectives and aims based on vision and mission.
The groups researched various successful associations of the world and worked in groups to define the vision and mission of a Library Association. They discussed different aspects of planning circles and stages. SWOT Analysis was conducted as an activity in groups to find out the strengths and limitations while forming associations. Session imparted on how to define job roles and to manage people.
The afternoon session dealt with planning terminologies, strategic plans, and membership criteria on what, why and how. The outcome was a strategic and operational plan and it was evident that together they are an excellent team to lead school librarians of 1.5 million schools of India.
Day 3 is a fruit bearing day indeed! It was unimaginable that participants have created policies, Standard operating procedures and de facto constitution of the School Library Association.
The team successfully defined vision and mission of the association.
Managing finance and budget
Fund raising plan
How to develop strategic relationships and partnerships
Election procedures
The participants learnt practical aspects of forming an association and at the same time were emotionally charged to meet one another face to face and know each other. The workshop not only empowered the participants with the new skills to build an association but also helped them identify their dormant skills which were honed well under the guidance of Ms Ingrid Bon and Ms Premila Gamage.
Ms Madhu Bhargava led the post Workshop presentation where Ms Ingrid Bon shared her experience as a trainer with the audience. The latter shared that the participants were such eager learners that she had to advance the training programme to a higher level. She took pleasure in displaying the work executed by the workshop participants.
Ms Madhu Bhargava, Coordinator and Dean of Libraries, G. D. Goenka World School presented the Workshop participants with the certificates and mementoes sent by IFLA, Netherlands.
Dr. Neeta Bali, Director, Principal, G. D. Goenka World School, facilitated the Special Guests of the day, Dr R. K. Ahooja, Prof. Economics, Govt. College Gurgaon, Ms Sarita Ahooja, Headmistress, Delhi Public School, Maruti Kunj, Gurgaon. They complimented on the accomplishment of the participants.